Slide Lock (pair) Cupboard Door Lock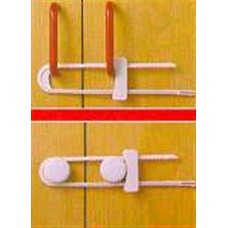 SAFETY FIRST - little fingers don't belong in cupboards. Use in your kitchen or bathroom or anywhere you don't want your toddlers accessing....

The Cabinet Safety Locks are simple for adults to use, but baffling for toddlers. Simply slip them over cabinet handles to "lock" them and keep your children OUT.
This one piece design is simple to install and the strong internal spring deters children from operating it.
Packaged in 'no frills' cellophane to bring you optimum saving. Pretty packaging forces prices up.

To Install:

Fits cabinet doors where handles or knobs are side by side. Fits through handles or over knobs up to 5-1/4 inches apart. Lock opens by placing firm pressure on the side buttons
(a) Firstly, press down both side buttons and then slide the locking cross piece completely down to the open end.
(b) With the cabinet door closed, slip the shorter arm piece around the handles or knobs on the door.
(c) Continue pressing side buttons whilst sliding the cross piece back into position until it rests alongside the handles or knobs on the door. Only then, release the buttons to lock into place.
CAUTION: Discontinue using if damaged or when the child can remove it. This product is a deterrent and NOT a substitute for correct adult supervision.
Write a review
Your Name:
Your Review:
Note: HTML is not translated!
Rating:
Bad
Good
Enter the code in the box below: